Hi!
I know it has been a while since you have heard from us,
but we are back and better than EVER!
Over the past few months our team has expanded. We have added new services and are thrilled to share with you our newest addition, Nonsurgical Facelift, Morpheus8!
She's here baby…
and she is a powerhouse of a treatment. Morpheus8 is our newest go to service for skin tightening, fine lines/wrinkles, acne scars, stretch marks, skin discoloration and so much more! Morpheus8 is one of the most advanced skin tightening and toning methods we have seen. We are proud to be providing this technology to our patients that are interested in meaningful facial rejuvenation without invasive surgery and that requires NO downtime.
Okay, now that we have told you how obsessed we are with this service, I am sure you are wondering,
"What the heck is this treatment?"
WHAT IS MORPHEUS8?
Morpheus8 is a microneedling device that utilizes radio frequency (heat) to aid in skin contouring, tightening, & resurfacing. This fractional treatment penetrates deep into the skin & fat, which is why it stands out from other microneedling services on the market. It is also the deepest FDA approved microneedling treatment on the market! The deeper needle penetration allows for a smoother and sleeker appearance to the skin.
WHAT ARE COMMON TREATMENT AREAS?
Jowling

Nasolabial folds

Fat accumulation beneath the chin

Frown lines/smile lines

Troublesome aging lines on the cheeks/neck/& chest

Perioral lines

Stretch marks & skin laxity (buttocks or abdomen)

Armpits (sweat reduction)

Enlarged pores

Acne scarring
WHAT ARE THE BENEFITS Of Nonsurgical Facelift?
Stimulates the production of new collagen and elastin (two of the most important components of youthful, supple skin.

Tightens & lifts sagging skin

Minimizes the appearance of fine lines and wrinkles

Decreases the presence of noticeable scarring

Mitigate the appearance of stretch marks
HOW IS THE TREATMENT PERFORMED?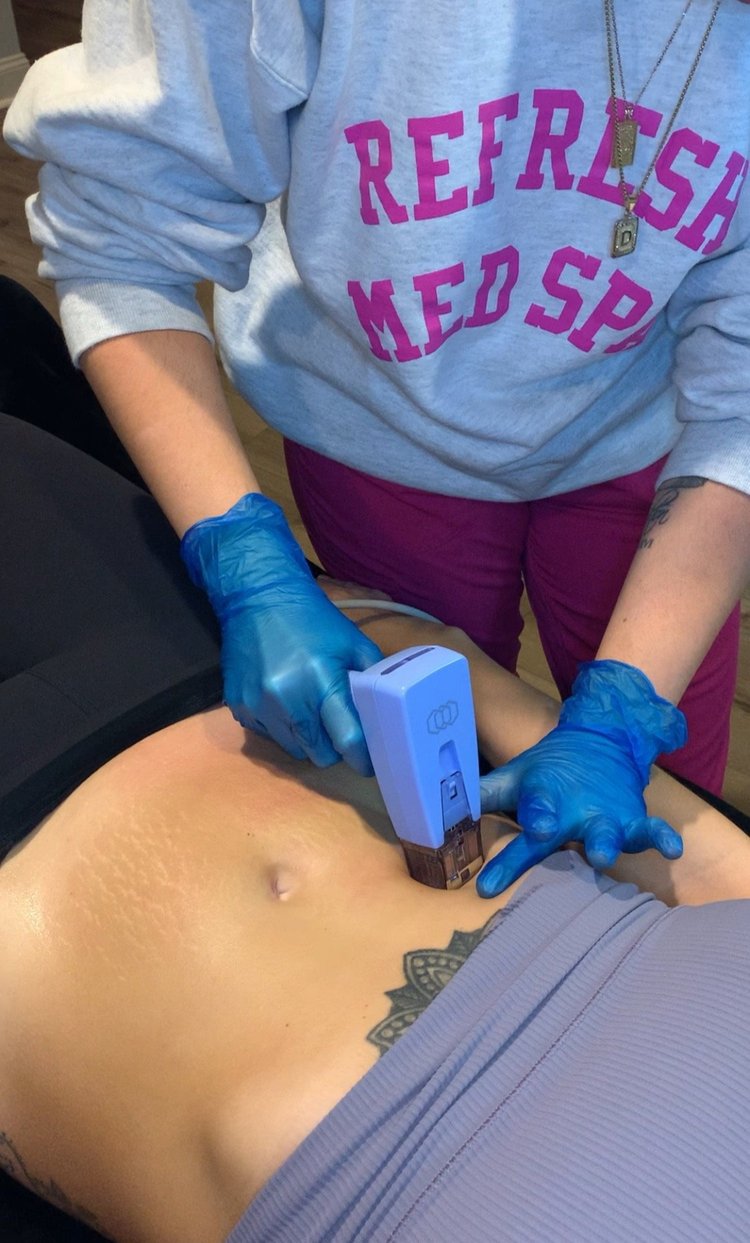 HOW MANY MORPHEUS8 TREATMENTS WILL I NEED?
The majority of patients undergo 3 treatments (4 weeks apart) for optimal results. As every patient is different & has their own unique needs, treatment plans are custom tailored to your goals. Acne scarring and stretch marks tend to take the most treatment sessions to address. While each client's needs will vary, patients facing these concerns are likely to need up to 6 sessions.
OPTIMAL RESULTS WILL BE SEEN 6 MONTHS FOLLOWING THE INITIAL TREATMENTS, AS THIS ALLOWS FOR COMPLETE CELLULAR REGENERATION TO OCCUR.
HOW MANY DOWNTIMES WILL THERE BE?
Following treatment, expect mild redness, swelling, & itching to the treatment sights that will resolve within 24 hours. We recommend waiting at least 24 hours to apply any makeup to the treatment sites. Furthermore, we recommend avoiding the use of retinol & all exfoliants for 4 days before and after treatment.
AQUAPHOR CAN BE APPLIED FOLLOWING TREATMENT TO CREATE A PROTECTIVE AND HEALING BARRIER FOR THE SKIN.
HOW MUCH DOES IT COST?
Full Face  $3,000 (package of 3)

Face + Neck   $3,500 (package of 3)

Chest  $1,300 (package of 3)

Scars  $1,300 (package of 3)

Stretch Marks  $1,700 (package of 3)

Eye   $800 (package of 3)

Around the mouth  $800 (package of 3)

Eyes + Mouth   $1,500 (package of 3)

Hyperhidrosis  $2,200 – 2,400 (package of 4)

Body (one area)*  $3,500 (package of 3)
COME IN FOR A COMPLIMENTARY CONSULTATION TO DISCUSS PACKAGES AND PRICING.
WHEW!
You made it to the end of the blog! I hope this has helped shed a little light on what exactly Morpheus8 is and if it is a treatment that can help you reach your goals! If you are still feeling like this blog made all the morpheus information clear as mud to you, come on in for a complimentary consultation with any of our amazing staff members! They are all thoroughly trained on Morpheus8 and would love to help you create a treatment plan catered to your specific goals and needs. We are looking forward to seeing you at Refresh soon & showing you what Morpheus8 is all about (:
REMINDER!
We are running a special on Morpheus8 through the month of November! When you purchase a package of three treatments for the face, you will receive treatment to the neck completely free!
Please follow and like us: